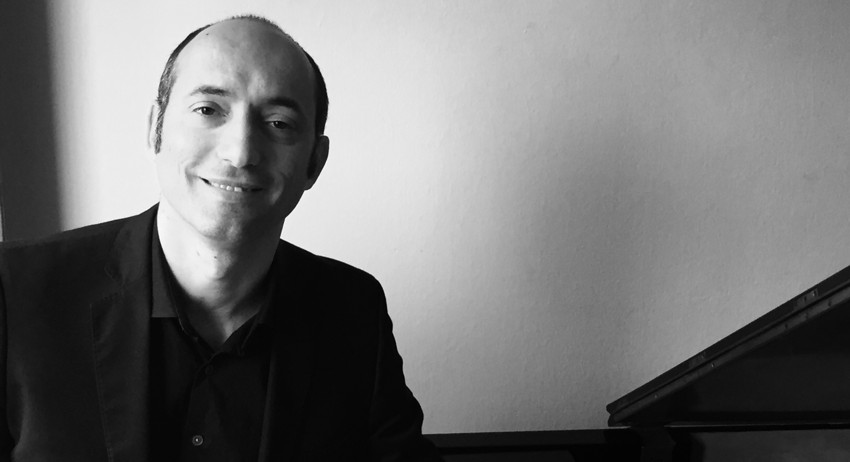 Born in Barcelona in 1976, he started his music studies at the age of 6 and later joined the "Conservatori Superior de Música del Liceu", where he completed his higher studies, enjoying a scholarship in recognition of academic merit for several years. Disciple of Michel Wagemans, renowned Belgian pianist and conductor, he soon deepens his knowledge of vocal accompaniment and chamber music. He owns a degree in Musical Education from the University of Barcelona. Interested in the voice, he was a singer of the Choir at the Faculty of Education and of the Chamber Choir at the Conservatori del Liceu.
He started teaching at the "Conservatori del Liceu" at a very young age, as an accompanist in singing lessons for admission auditions. He later held a position as a piano accompanist for several years. He worked primarily in the intermediate and higher levels in the Strings and Voice Departments. Next to stage-managers Isabel Franco Peló or Joan Anton Sánchez-Aznar, he worked as répétiteur in different student operas in the cycle "Opera Oberta a la Universitat de Barcelona": "Le Docteur Miracle" by G. Bizet, "Prima la musica poi le Parole" by A. Salieri, "Chi dell´altrui si veste presto si spoglia" by D. Cimarosa, "La Contadina in Corte" by A. Sacchini or "La lettera anonima" by Donizetti.
A regular accompanist in the Catalonian music scene, he has worked in a number of relevant music institutions in Barcelona ("Escola de Música de Barcelona", Juan Pedro Carrero, Coco Comín, Joan Llongueres…) and at the Conservatory of Lanzarote (Canary Islands, Spain). Accompanist in admission auditions for Conservatori del Liceu and ESMUC, competitions (Arjau, Concurs Lyrique des Pays Catalans...), castings (Eurovision, Stage Entertainment…), international music courses (Cervera, Mas Pagès in Girona, Sant Cugat…) and opera workshops. Pianist and musical director for numerous musicals and other productions (Stage Entertainment, FOCUS, El Terrat, Dagoll Dagom, El Tricicle...).
He has worked in the classes of prestigious musicians (Gonçal Comellas, Evelio Tieles, Lluís Claret, Eva Graubin, Paul Cortese, Claudi Arimany, Dalmau González, Carmen Bustamante, Enric Serra, Raquel Pierotti…).
Performer in numerous recitals for voice or for piano and choir (next to the Choir of the Hospital Sant Joan de Déu, the Choir of the Faculty of Psychology of Universitat de Barcelona, the Choir of Universitat Pompeu Fabra, the "Orfeó Laudate"...). He has participated in several chamber ensembles (mostly in duo) and orchestral ensembles (accompanying Kiri Te Kanawa next to the Orquestra Simfònica del Vallès), performing an extensive catalogue of works and authors from the Renaissance to the 20th Century. He has performed in auditoriums and concert venues around Catalonia (Palau de la Música Catalana, Cercle del Liceu, Universitat de Barcelona), theatres, and alternative spaces (Teatre Nacional de Catalunya, "L´Atlàntida" in Vic, "Kursaal" in Manresa, "Cercle Maldà" and "Gaudí" in Barcelona) and music festivals( Alella, Calonge, Cantonigròs, Francesc Viñas, Carcassone…).
Some of the most significant operas that he has performed as a pianist in their entirety include "Die Zauberflöte", "Le Nozze di Figaro", "Così fan tutte", "Don Giovanni", "L´Elisir d´amore", "Manon" by Massenet, "Don Pasquale", "Rigoletto", "La Bohème", "Gianni Schicchi as well as a broad number of Zarzuelas ("Doña Francisquita", "La Tabernera del Puerto", "Katiuska", "Los Gavilanes"…), musicals ("Les Misérables", "The Sound of Music", "Beauty and The Beast"…), Song and Lied ( from Mozart to R. Strauss). A special mention goes to the artistic collaboration with soprano Marta Arbonés in the Song and Lied.
Over the past few years, Fidalgo has gradually exploited his own talent as arranger and composer. Working with producer Jordi Cubino, he has contributed arrangements to the fundraising album Disc de la Marató de TV3 and has served as assistant music director on the successful talent show Eufòria. As a composer, his activity has recently evolved towards a polystylism with multiple influences and in permanent synergy with other artistic disciplines such as painting, poetry or photography. His works as arranger and composer are showcased on his YouTube channel, which features the deliberate combination between the artistic and the pedagogic dimension of his compositions, in line with the spirit of classical works such as Schumann's "Album für die Jugend" or Béla Bartók's "Mikrokosmos".